Unique textured surface cleans between teeth better than an ordinary toothpick!
Opalpix™ Interproximal Cleaners
Opalpix 12pk
12pk
Item# 6600
The unique design of Opalpix interproximal cleaners allows you to clean between teeth and around orthodontic appliances like braces and bonded retainers better than an ordinary toothpick.
Thin tip design allows easy cleaning access, even in tight spaces
Will not splinter or break
Has a textured surface for better cleaning
Provides the perfect balance of flexibility and rigidity
Massages gum tissue between teeth while removing food and plaque
Each pack contains 32 Opalpix interproximal cleaners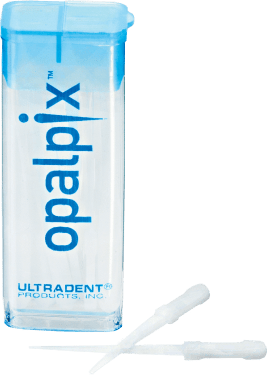 Not Your Average Toothpick!
Opalpix™ cleaners help you clean between your teeth and around orthodontic brackets and wires. With a thin tip, angled design, and just the right amount of flexibility, they fit well into hard-to-reach and tight spaces. Because they are made of flexible plastic, they won't break or splinter as they massage gum tissue and remove debris. Each pack is resealable and compact enough to fit discretely in a purse or pocket. You'll love Opalpix cleaners so much you may never use an old-fashioned toothpick again!
Learn why Opalescence teeth whitening is the global leader in professional teeth whitening and start your journey to the bright white smile you deserve.
Explore Teeth Whitening