Forms a protective shield to relieve pain caused by brackets and wires!
Gishy Goo™ Silicone Bracket Relief Aid
Gishy Goo Patient Kit
1pk
Item# 500006
Gishy Goo bracket relief aid is designed to increase your comfort with braces and other orthodontic appliances. It is made of a specially formulated material that holds firmly to brackets and wires. By placing a small amount of Gishy Goo bracket relief aid at the point of irritation, you form a protective barrier against the discomfort caused by orthodontic gear.
Reduces unnecessary orthodontic appointments
Remains in place better than dental wax
Provides lasting comfort for your lips, cheeks, and tongue
Includes one pack of Opalpix Cleaners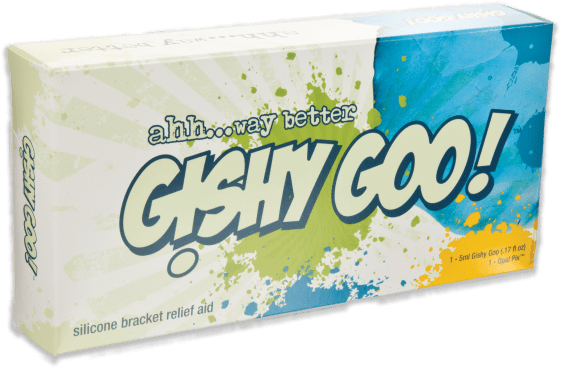 How to Relieve Orthodontic Pain with Gishy Goo Bracket Relief Aid
It is common for orthodontic patients to experience discomfort when first getting used to their braces, or even throughout their orthodontic treatment plan. With Gishy Goo bracket relief aid it is easy to get relief for the soft tissues of your mouth.
Just take a pea-sized amount, mix it together, and place the mixed Gishy Goo bracket relief aid over the bracket or wire where you feel discomfort. After only two minutes the material will set and can stay in place for up to 12 hours to provide lasting relief.
Learn why Opalescence teeth whitening is the global leader in professional teeth whitening and start your journey to the bright white smile you deserve.
Explore Teeth Whitening